Ontario's Historical Plaques
at ontarioplaques.com
Learn a little Ontario history as told through its plaques
Sharon Temple
These two plaques are at the same location.
Both can be seen on this page.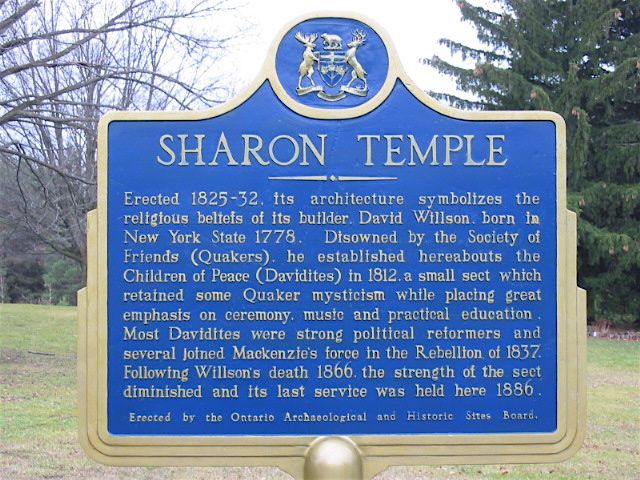 Photo by Alan L Brown - Posted April, 2004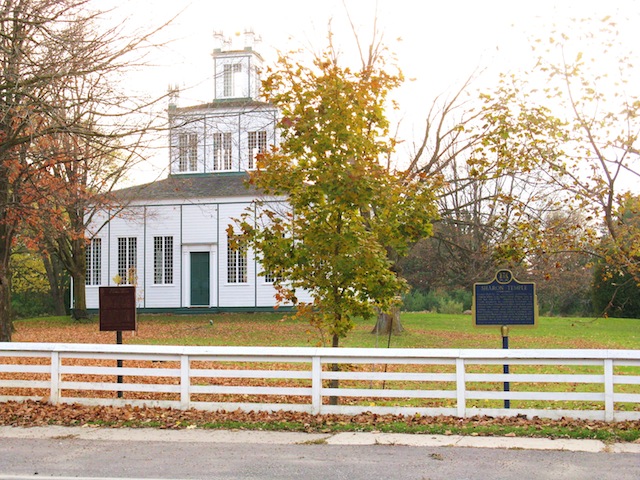 Photo by contributor Wayne Adam - Posted February, 2012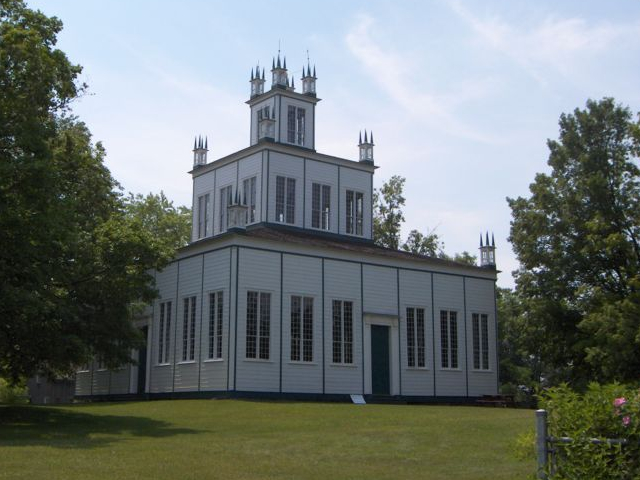 Photo Source - Wikipedia
Plaque Location
The Region of York
The Town of East Gwillimbury
In Sharon, in front of the temple on the east side of Leslie Street
(Road 12) just south of Mount Albert Road (Road 13)
Coordinates: N 44 06.090 W 79 26.470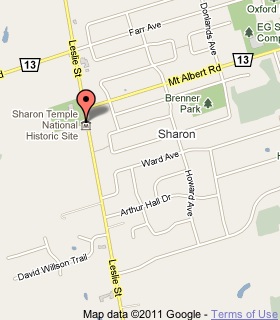 Plaque Text
Erected 1825-32, its architecture symbolizes the religious beliefs of its builder, David Willson, born in New York State 1778. Disowned by the Society of Friends (Quakers), he established hereabouts the Children of Peace (Davidites) in 1812, a small sect which retained some Quaker mysticism while placing great emphasis on ceremony, music and practical education. Most Davidites were strong political reformers and several joined Mackenzie's force in the Rebellion of 1837. Following Willson's death 1866, the strength of the sect diminished and its last service was held here 1886.
---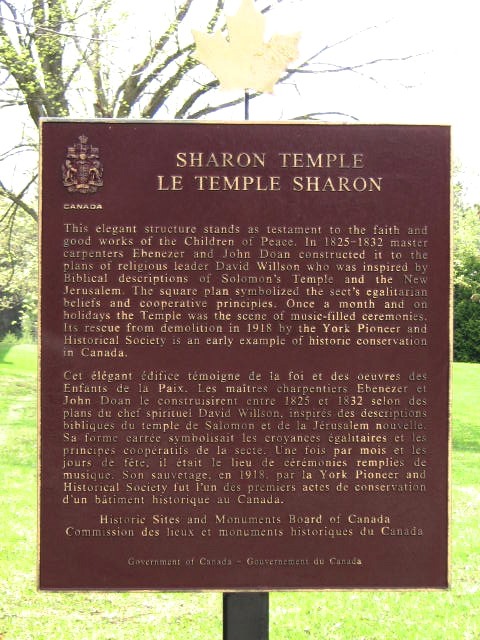 Photo by Alan L Brown - Posted May, 2009
Plaque Text
This elegant structure stands as testament to the faith and good works of the Children of Peace. In 1825-1832 master carpenters Ebenezer and John Doan constructed it to the plans of religious leader David Willson who was inspired by Biblical descriptions of Solomon's Temple and the New Jerusalem. The square plan symbolized the sect's egalitarian beliefs and cooperative principles. Once a month and on holidays the Temple was the scene of music-filled ceremonies. Its rescue from demolition in 1918 by the York Pioneer and Historical Society is an early example of historic conservation in Canada.
---
More
Information
More
Churches
---
Here are the visitors' comments for this page.
Posted June 29, 2011
This building was used to film scenes in "Samuel Lount" (1985), a movie about the Rebel leader (see his plaque pages on this site and at torontoplaques.com). The film portrayed Lount as a member of the pacifist sect, but characterized his involvement in the Rebellion as unique. This plaque says support for fighting the British was common amongst members. -Wayne
Posted June 9, 2011
When I lived in Toronto years ago, I would visit this spot quite frequently. Absolutely unique architecture, and just a wonderful place for a visit!
Posted November 8, 2010
Amazing structure, thank Heaven it was saved from demolition! I used to visit it years ago. Nothing else like it!!
Here's where you can write a comment for this page.
Note: If you wish to ask me a question, please use the email link in the menu.
Note: Comments are moderated. Yours will appear on this page within 24 hours
(usually much sooner).
Note: As soon as the comment is posted, a link to it will appear on the home page in the section "Here are the 10 latest plaque pages with a new comment added by a visitor to this site."