Ontario's Historical Plaques
ontarioplaques.com
Discover Ontario's history as told through its plaques
2004 - Now in our 15th Year - 2019
Site updated April 21, 2019
Looking at this page on a smartphone?
For best viewing, hold your phone in Landscape mode (Horizontal)

Welcome. I'm Alan L Brown. I'm a 73-year-old retired school librarian who left the profession in June, 2002. I've had an interest in plaques since I was a kid. Now that I'm retired, I set out, in March 2004, with my trusty digital camera, to take a photo of each of the Provincial government's Ontario Heritage Trust plaques and create a page for each on this site. (more)
Here's our Plaque of the Day,
one of the 1514 plaques on this website.
A different plaque photo appears each day.
You can click on the photo to visit its page.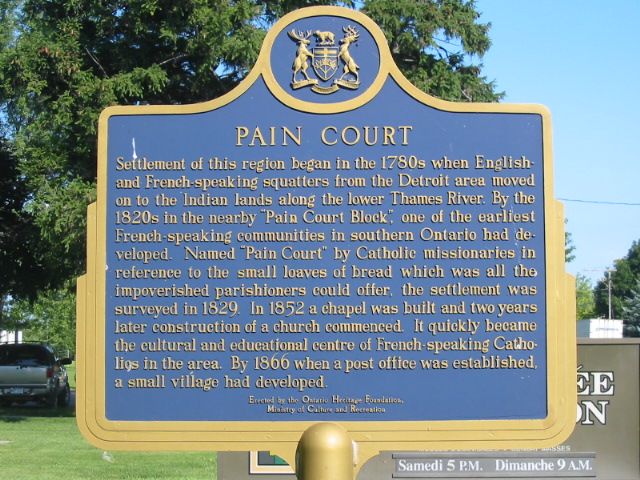 Here are the latest plaque pages
with a new comment added by a visitor to this site.

(continued from the top of this page) Then, beginning in May, 2009, I began adding all the Federal government's Historic Sites and Monuments Board of Canada plaques in Ontario to the website. The provincial and federal plaques are the only plaques I post on this site. Although there are thousands of local ones erected throughout the province, due to time constraints and the fact it's just me running things, I've had to limit myself.

Using the menu at the top or bottom of each page, you can access the plaques by way of the 'Index', 'Subjects', 'Locations', 'Map', and 'Search' links. As well, the menu gives you access to a list of 'Links' to other sites and a link to send me an 'Email'.

This site is indexed by the FreeFind search engine.

Note that all the historical plaques in the City of Toronto are not posted here but can be seen on my other website, torontoplaques.com

I'd like to acknowledge the work done by Wayne Cook on his website. He has granted me permission to copy his plaque text.

My photos are freely available to whoever wishes to download them. I do ask that the words "Source: ontarioplaques.com" be located under or near the photos.

I permit use of my photos on ontarioplaques.com to be used under the "Creative Commons Attribution-Share Alike" license at Wikipedia.

I'd also like to thank these 141 fine people and organizations who have contributed plaque photographs to this site:
Wayne Adam
Mona Albano
Kim Allerton
Andrea Allison
antefixus21
Michael Anttila
LeeAnn Beer
Meagan Berry
Belinda Betz
Kal Biro
Jessica Blackwell
Brian Bockus
Eileen F. Brown
David Brown
Elliott Brown
David Burbridge
Mary Callaghan
Geoff Chalcraft
Pierre Charron
Kellie Clifford
David Clifford
Merrill Collins
Wayne Cook
Dave Cooper
Dave Corbett
Allison Corbett
Trevor Eaton Cordes
Kevin Craft
Andrew Cresswell
Glen Curnoe
Wendy Dawes
Eugenio DiMeo
Michael Dube
Mark Earle
David Eckel
Zoë Edwards
Michael Eisen
Fraser Elford
Ian Ericksen
Dave Ferguson
Dave Fernie
Rhonda Fetterly
Don Fleming
Iain Flett
Kathy Frlan
Debbie Gagain
J.P. Gauthier
Denis Gionet
Jocelyn Gordon
Robert Griffin
Jonathan Grigg
Stéphane Guay
Guernsey Museums Galleries
Steve Hanes
Pat Harwood
Brian Herling
Jacques Heroux
Brenda Hopkins
Matthew Hoskin
Kevin Howard
Dwayne Howard
Chris Howitt
Jack Humphrey
Karl Jacob
Bill Jarvis
Andrew Jones
Albert Joseph
K'an
Tyler Kells
Michael Kelly
Ronald Kirkbride


Thomas William Kirkbride
Peter Kotanen
Mario G. Lafreniere
Guusje Litjens
Lianne Johnson Lowens
Burke Lush
Heather Macdonald
Florin Marksteiner
Rick Mason
Andrew McDonald
Bill McKibbon
David McLaughlin
Joe Mielko
Alison Mitchell-Reid
Dawn Monroe
Bill Moody
George Nassas
Colin Old
Blair Olsen
Lori Oschefski
John Parkyn
Ontario Parks
Parks Canada
Bill Patterson
Jean Paul
Kelly Pearson
Sharon Pedersen
Peter and Gloria
Chris Porter
Jill Poulin
Joshua Reyes
Betty Ritchie
Lauren Roberts
Raymond Rochon
Sherry Roy
Sarnia Heritage Committee
Brian Schuette
Scugog Heritage Committee
Colin Semple
Hal Sherman
John Carman Shultis
Meagan Sinclair
Harry Slaunwhite
Steven Smellie
Jay Smith
Dale Smout
Stephanie Spencer
Robert Staniforth
William Stewart
Barry Sullivan
Roger Taguchi
Fred Tatler
Blain Taylor
Cliff Thornton
Jamie Toeppner
Richard Turcotte
Myno Van Dyke
Tony Vandermaas
Julka Vlajic
Glenn Walker
Sheila Wang
Tracey Wark
Ken Watson
Tony White
Andrew Whitfield
Kerry Willcox
Sue Williams
Murray Wilson
John Wulff
Robert Youngs

If you'd like to see the photos they contributed, just copy their name and paste it into the box on my Search Page.