Paris Plains Church 1845
Photos by Alan L Brown - Posted June, 2004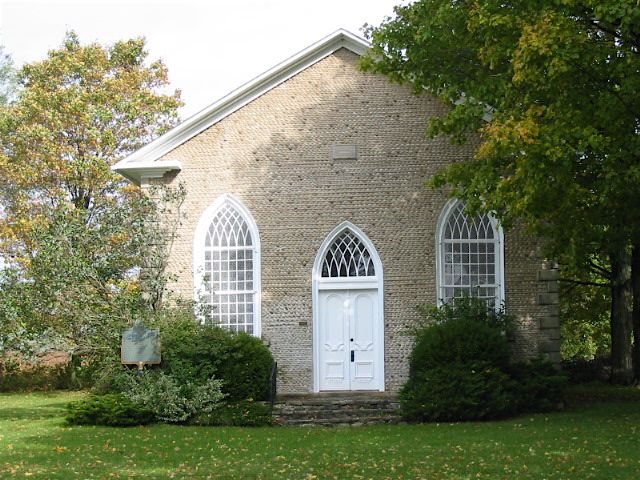 Plaque Location
The County of Brant
North of Paris via Highway 24A (Pinehurst Road)
then 1 km east on Paris Plains Church Road
street number 705
(Please note that the church is no longer active.
It is closed and locked.)
Coordinates: N 43 14.262 W 80 22.900
Plaque Text
Built by free labour of its own congregation with stones gathered from nearby fields, the West Dumfries Chapel was completed and dedicated in 1845. It is a fine example of a type of cobblestone construction seldom found elsewhere in Canada, and introduced into this area about 1838 by Levi Broughton, an American builder. The first minister, the Reverend John Law, served from 1845-7, and the church remained active in the Methodist Conference until services were discontinued in 1921. The building was restored in 1948 as a memorial to the pioneers of the community.
More
Churches
Here are the visitors' comments for this page.
> Posted April 21, 2019
I am 52 years of age and I lived in the house behind the church (gone now). The lane is to the east of the cemetery. It was quite far back. Leaving when I was 7 after my mother committed suicide by overdose to live with my grandmother in Simcoe, ON. I recall it was quite the elaborate house with a staircase off the kitchen to maids quarters. Does anyone know any history of this home?
Boyd C. Anderson, Grand Rapids, Michigan b50anderson@gmail.com
Mark, Leslie, Carly & Noah Burow 155 McCall Cres. Simcoe, ON N3Y 2E3 t. 519-428-5284 c. 519-428-6273
> Posted February 23, 2014
Any Andersons around yet? My ancestors lived nearby from 1820 to 1850 before moving to Lowell, Michigan. Would enjoy hearing from you.
Boyd C. Anderson, Grand Rapids, Michigan b50anderson@gmail.com
> Posted February 9, 2014
In the cemetery behind the church and in plat books from 1875 there are several Anderson families. I would like to get in contact with descendants as I am one, living in Michigan.
Boyd C. Anderson b50anderson@gmail.com
> Posted January 12, 2013
Am writing a history of the Plumstead families in and around Paris Plains. Am especially interested in my grandfather William, and his father James, who I conjecture, came to Canada with his family around 1852. Any help would be greatly appreciated. A.W. (Bill) Plumstead, 1933-- w.plumstead@sympatico.ca Thank you.
> Posted June 12, 2012
I am one of the Maus family and was given the Maus Family Bibles by my Grandmother Clara Bell Lottie Maus daughter of Jairus Wilfred Maus born their 2/6/1859 son of Jairus Bunnell Maus. Thoroughly enjoy seeing all the pictures available until I can visit, but disappointed that the Maus name has been removed as this was the family home, Maus Plains. I would like to connect and share information with any of our Maus family. Please email me at shawneemathome@yahoo.com
> Posted October 5, 2011
At present there is one fellow looking after the church - Bill Maus - he would be who you have to contact for renting it.
> Posted September 6, 2011
You may want to look for the name Perriman on Hwy 24A. Last I knew Mr. Perriman was the volunteer caretaker. My mother was married there in 1967. Good luck!
> Posted July 12, 2011
Would love to get married outside the church there...lesley
> Posted June 11, 2011
The Maus School is next to this church (to the west), restored as a Centennial project in 1967. A cairn in front notes the school was established in 1829, and the cairn erected in 1929 for the school's centennial. A 1967 plaque suggests it is (was) the Maus School Museum, developed by the Township of South Dumfries. Perhaps they maintain the church too. Also (to Belinda Heatley), you'll find cobblestone buildings in nearby Paris: St. James Church (at Grand River S. and Burwell Sts.); an impressive house (at the NW corner of Burwell and Church Sts.); and the low wall in front of Asa Wolverton House (see its page on this site). The Paris buildings are viewable on Google Streetview, or contact me for general and close-up photos of these and the Maus School: news6850 AT gmail DOT com. -Wayne
> Posted December 17, 2010
What an amazing example of incredible workmanship. Thank you so much for posting this.
-New resident to the area
> Posted July 13, 2010
Hello there. I am trying to research Paris Plains church & surrounding area.I am interested in the Maus too. Could anyone let me know any information you have or point me in the right direction. Much appreciated & look forward to it. Great photos by the way.
Regards
Belinda Heatley