Glengarry Cairn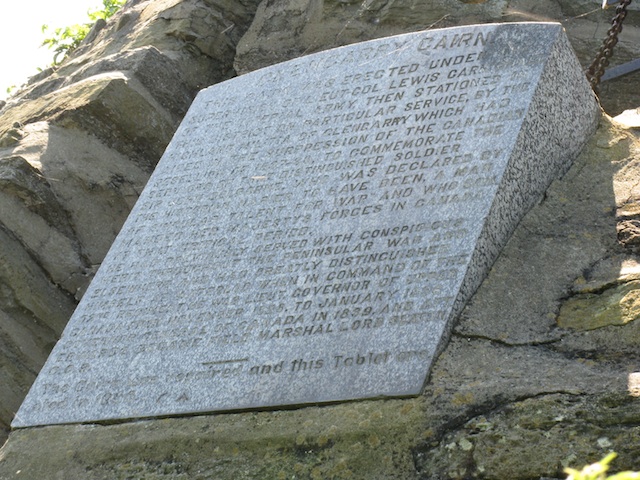 Photos by contributor Wayne Adam - Posted December, 2009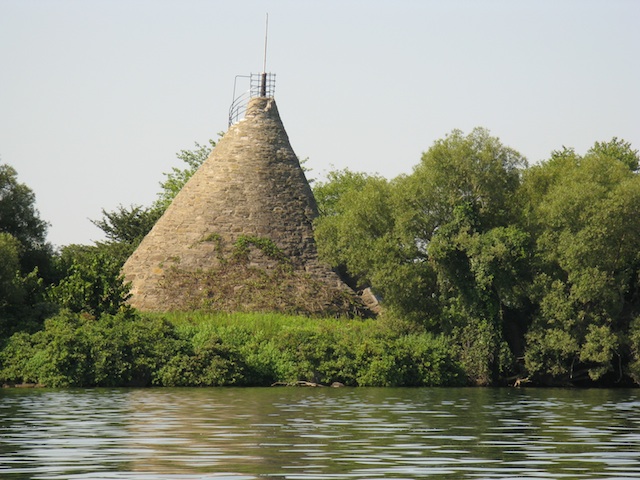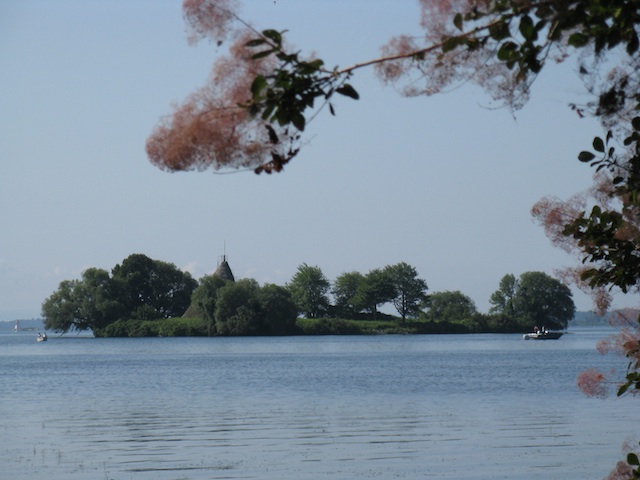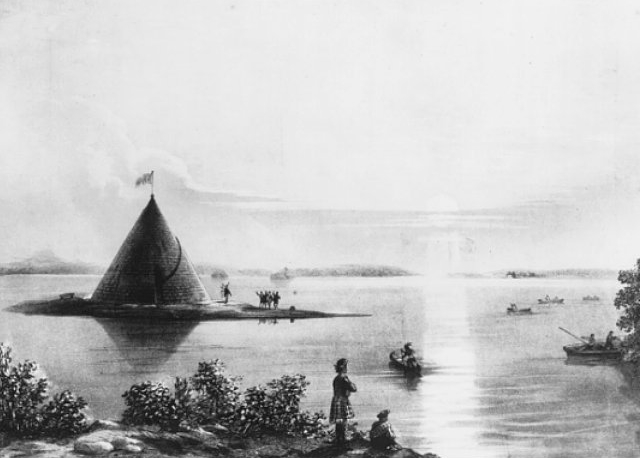 Photo Source - Unknown
Plaque Location
The United Counties of Stormont, Dundas and Glengarry
The Township of South Glengarry
At the foot of the staircase of the cairn
at Glengarry Cairn National Historic Site
(not open to the public as of 2009)
on Cairn Island off South Lancaster in the St. Lawrence River
Coordinates: N 45 07.309 W 74 29.391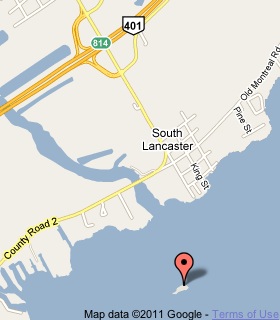 Plaque Text
This cairn was erected under the supervision of Lieut-Col. Lewis Carmichael of the Imperial Army, then stationed in this district on particular service, by the Highland Militia of Glengarry which had aided in the suppression of the Canadian Rebellion of 1837-38, to commemorate the services of that distinguished soldier Sir John Colborne, who was declared by the historian Napier to have been, 'A man of singular talent for war' and who commanded her majesty's forces in Canada at that critical period. He had previously served with conspicuous merit throughout the Peninsular War and elsewhere and had greatly distinguished himself at Waterloo when in command of the 52nd regiment. He was Lieut. Governor of Upper Canada from November 1828 to January 1836, Governor General of Canada in 1839, and afterwards became Field Marshall Lord Seaton G.C.B. The cairn was repaired and this tablet erected in 1905.
More
Military
Here are the visitors' comments for this page.
> Posted January 8, 2016
Thanks for your pictures and historical background for the Glengarry Cairn. My family owned a large country retreat on the shoreline just besides the Cairn. I recall at 7 years old my father would swim out to the Cairn everyday.
Joe Bornstein Joe.bornstein@healthinnovationsgroup.ca
> Posted June 12, 2015
When I was just nine years old, during the War, my mother sent me to live with a family who rented a summer cottage in South Lancaster. We often visited the island by rowboat and some of us tried to swim back to the cottage accompanied by a responsible person rowing the boat. I often climbed the scary, precipitous steps to the top of the Cairn hanging on to an iron pipe railing. There was always a Union Jack flying on top and I believe it was placed in an old cannon mouth. There was a large block of cement that, we thought, was a kind of grave marker. I had no idea that it has been closed to the public. I last saw the Cairn when I took a side trip from Montreal to trace my old footsteps around South Lancaster back in 1997. I have written about my days spent in South Lancaster during the War and, in fact, had one piece published in the Glengarry News, as Guest Columnist, on June 13, 2001. I had been looking for my wartime family that I had lost contact with right after the War which is one of the reasons of my visit to South Lancaster at that time. I did not uncover any clues to the whereabouts of the family during that visit. The children of that family were all female and impossible to trace without knowing their married names. However, a small miracle did occur. A woman and her husband were on their way from Alexandria to Nepean to pay a visit. The wife brought along the newspaper to read while her husband drove the car. She read my article about living in South Lancaster during the War and knowing that the person she was going to visit also spent some time in South Lancaster during the War, showed her the article upon her arrival in Nepean. As it turned out, her host was the youngest daughter of the family I was searching for. Since then, that youngest daughter has visited me and my wife on Pender Island, BC and I have been in constant touch with the three remaining sisters. I found my wartime family. I just turned eighty-two and still remember vividly my days in South Lancaster, which, by the way, we only knew as "Lancaster."
Roy Oram, Pender Island, BC kroyo@shaw.ca
> Posted April 3, 2014
I remember very clearly traveling down the mighty river to go and visit The Glengarry Cairn. You could definitely drive a boat to the island. It had a couple of bathrooms and picnic tables. I remember reading the plaque every time I walked up it. It's a shame that such a beautiful figure is going to waste. It was always mowed and nice when I was there. It's a shame how stuff like that when it is a historical marker and there is no funding anywhere to help secure it has a place to visit.
> Posted July 4, 2013
Thank you for your interesting site. We paddled out to Cairn Island yesterday. Starting in 1976, I have paid many visits to the island and its impressive cairn. At one time it welcomed visitors. the grass was mowed, a few picnic tables and garbage cans were provided. a modest dock facilitated landing of a small boat. the cairn had been periodically repaired, the Canadian flag flew. Now the island is but a hostile presence. Weeds, especially nettles grow waist high. There are no footpaths to allow access to the cairn and its spiral staircase. The only positive thing that has taken place is the placement of tons of massive boulders around the periphery of the island, thus preventing any erosion. What a frustrating waste!! Political correctness prevents me from saying more. All I can do now is fly over it to take aerial photos and gaze down at it, pondering the many fond memories I have of that idyllic and historically significant place.
Nick, Williamstown, Ontario nuthilltoo@gmail.com
> Posted August 20, 2012
When I was in grade seven, our history teacher, Helen Burns had us riding our bikes on the weekends to visit historic sites around Cornwall, before the Seaway. One trip we made was to see Lancaster Cairn as we knew it, on the little island just off Lancaster. I'm glad it's still there and it definitely should be open to other interested history buffs.
> Posted June 24, 2010
My family is from South Lancaster. I have been desperately looking for good photo's or a print of the Cairn and or post cards. Would you please notify me at living1957@hotmail.com if you are aware of any place that would carry these items. Thank you for doing this update on the Cairn and keeping the interest alive.
Catherine Livingston
> Posted December 30, 2009
There are two reasons the island was closed to the public: (1) Claims were made that burial remains had been found, and there was a desire to keep them undisturbed. There appears to be some dispute, locally, about this, and I heard disparaging remarks about them being "chicken bones" instead. This likely reflects resentment against closing what had become a favoured public park, once in better repair, and a secret late-night party/drinking spot. I suppose archeologists want to make sure. Perhaps complicating research efforts, however, is reason (2): A native land claim to the island. Until things are sorted out, this national historic site within the national park system, managed by Parks Canada, remains closed. I'm unclear when the dispute began. Folks make unofficial visits, but could encounter Native boat patrols. You can't fence off an island, after all, and boating and fishing the waters immediately around it is permitted. The closure is unfortunate, because this is one of the country's oldest national monuments (1840), even if it does pay homage to overseas forces which suppressed a patriotic quest for democracy. In Quebec, monuments celebrate the Patriot side! A similar closed national park situation has existed for decades at Hohokam Pima National Monument in Arizona. It's a more extreme example, virtually erased from all maps so tourists can't find it. Ironically, it's next to an Interstate highway. -Wayne
Here's where you can send me a comment for this page.
Note: Your email address will be posted at the end of your comment so others can respond to you unless you request otherwise.
Note: Comments are moderated. Yours will appear on this page within 24 hours (usually much sooner).
Note: As soon as I have posted your comment, a reply to your email will be sent informing you.
To send me your comment, click alanlangfordbrown@gmail.com.

Thanks
Alan L Brown
Webmaster


Note: If you wish to send me a personal email, click here.