The McIntosh Apple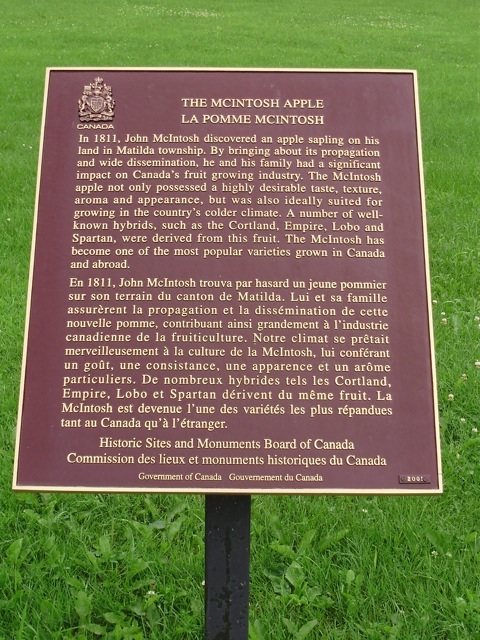 Photo by contributors David & Kellie Clifford - Posted July, 2009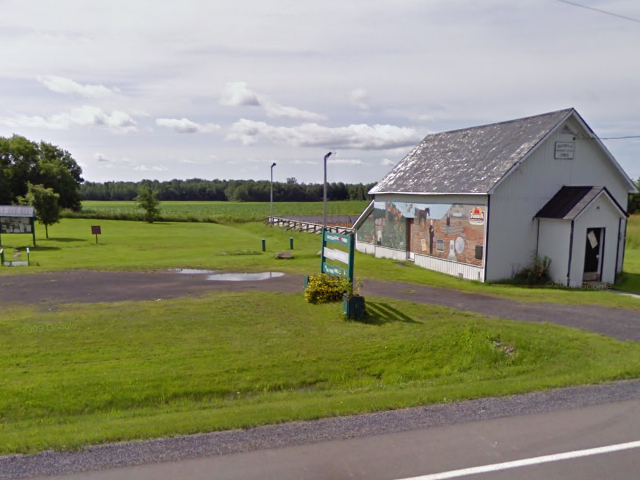 Photo from Google Street View ©2011 Google - Posted January, 2011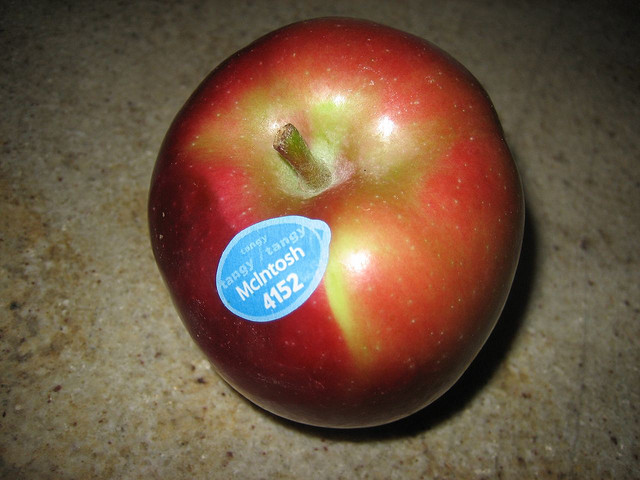 Photo Source - Wikimedia Commons
Plaque Location
The United Counties of Stormont, Dundas and Glengarry
The Township of South Dundas
In Dundela, in a park a block west of the centre of the village
on the southwest corner of Road 18 and McIntosh Road
Coordinates: N 44 56.373 W 75 18.468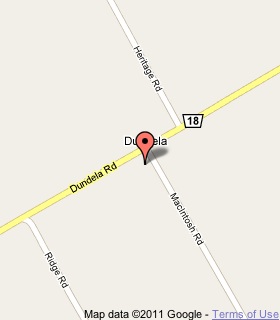 Plaque Text
In 1811, John McIntosh discovered an apple sapling on his land in Matilda township. By bringing about its propagation and wide dissemination, he and his family had a significant impact on Canada's fruit growing industry. The McIntosh apple not only possessed a highly desirable taste, texture, aroma and appearance, but was also ideally suited for growing in the country's colder climate. A number of well-known hybrids, such as the Cortland, Empire, Lobo and Spartan, were derived from this fruit. The McIntosh has become one of the most popular varieties grown in Canada and abroad.
Related Ontario plaque
John McIntosh 1777-1846
More
Information
More
Agriculture
Here are the visitors' comments for this page.
> Posted July 21, 2016
I lived in Red Deer, Alberta for some 20 years. Right across the street to the Jackpot Casino in Red Deer (kiddy-corner to the 7-11) there is a plaque concerning the McIntosh Apple. Whether it was brought to Red Deer, derived from Red Deer, the creator of the apple himself resided in that house where the plaque was or cloned to create some derivative of the McIntosh Apple I'm unsure of. I remember reading it though amazed. 'Them there McIntosh Apples are delicious, crispy and juicy'. Looked it up in the internet but couldn't find a connection, but I know that there's a plaque there in Red Deer, Alberta on the McIntosh Apple.
Paul Maxted maxtedpaul@ymail.com
> Posted September 26, 2013
Hello McIntosh fans and family. My name is Lisa Scott and I have recently discovered via Ancestry.com that John McIntosh was my 4x great grandfather. My grandmother was Adele Winifred McIntosh, daughter of Harry Lindsey McIntosh, son of Charles F. McIntosh, son of Alexander Melvin McIntosh, son of apple founder John McIntosh. When I announced the discovery to my daughter, she immediately thought of Apple computers. I told her that I was meaning the fruit. She then found that the Apple computer was named after McIntosh apples. Who knew?
> Posted September 13, 2013
I love Mac Apples, The current crop (Sept) is hard as a rock! How come? I have always enjoyed the soft texture of a Mac! (New England).
> Posted August 31, 2011
I grew up with McIntosh apples, and they were and always will be my favorite apple. New apples come and go, but McIntosh is the best!
Trish Short Lewis from northwest Minnesota on the Canadian border.
> Posted February 20, 2011
Hello and congratulations on 200 years of McIntosh apples! I just found out, by browsing through ancestry.ca, that I am a very distant relative of John McIntosh. My Great Grandmother was Florence Mary McIntosh, born in 1883. She married George Caldwell, a member of another large family in Dundas County. From there, my family name went through Bunting and then Maynard. Every time my wife makes an apple pie, I will now feel even prouder!
Kevin Maynard, Mississauga, ON.
> Posted February 19, 2011
I would NEVER eat any other kind of apple! McIntosh forever!
> Posted February 3, 2011
G'day. I am trying to locate a direct descendent of the founder of the McIntosh Apple. 2011 is the 200th Anniversary of this discovery and the apple growers in Ontario are celebrating with a Gala Anniversary Party on February 21st. To have a live member of the McIntosh Family Tree would add to the event. We have a limited budget so are looking for a descendent that lives close to Toronto. Any assistance would be greatly appreciated. I am also trying to confirm that the McIntosh apple is Canada's National Fruit. Celebrate 200 years!!
Thanks, Brian Gilroy @ nighthawkorch@bmts.com
> Posted October 24, 2010
We are living in Baden, Switzerland. A bio-farm on Baldeggstrasse has a small orchard with 300 varieties of apples. Much to my Canadian husband's dismay, none were McIntosh. We can find the Spartan and a Belner Rote that taste similar. At a country festival there were two apple growers. One spoke enough English to know that two of the apples were of the same family. So our Fall is now complete.
> Posted September 12, 2009
Hi my name is Douglas Ed McIntosh and my big brother who unfortunately passed away at an early age had been named by his dad Clearance Wilford McIntosh. John McIntosh is my great grandfather and for a time my grandfather and Claire his wife farmed [Quill Lake] Saskatchewan but as time went on and us kids were pretty young still we moved to Calgary Albert. Right after Uncle Lloyd and Easter moved there. Since then most of the children are scattered from Calgary Alberta to Vancouver and White Rock, British Columbia. Some are from Donnie and Cal McIntosh. A lot of our parents have passed on but there are still lots of nieces nephews. Almost forgot my sister Barbara Ann Hunt of Cod Lake and her family. Nice to see all and learn about something I personally missed as I lived in North Delta and was always too busy. Any comments call Doug McIntosh at 403-452-0769. Good luck to everyone wherever you moved to or stayed.
> Posted July 31, 2009
Production of McIntosh is very limited and only by Hokkido in Japan. I doubt why the Japanese Shosa doesn't import them just like American cherry.
> Posted March 6, 2009
Did you know that McIntosh apples are the symbol of Macintosh Computers! I love Apples! APPLEESS!!
> Posted June 7, 2008
Thanks for the info. It was really useful.
Here's where you can send me a comment for this page.
Note: Your email address will be posted at the end of your comment so others can respond to you unless you request otherwise.
Note: Comments are moderated. Yours will appear on this page within 24 hours (usually much sooner).
Note: As soon as I have posted your comment, a reply to your email will be sent informing you.
To send me your comment, click alanlangfordbrown@gmail.com.

Thanks
Alan L Brown
Webmaster


Note: If you wish to send me a personal email, click here.