Dr. Mahlon W. Locke 1880-1942
Photo by Alan L Brown - Posted June, 2005
Photo from Google Street View ©2015 Google - Posted February, 2015
Photo courtesy of Ron Bronson from an album
of his great-uncle Simon I. Brownson - Posted June, 2015
Photo courtesy of Ted Rundle - Posted March, 2018
Photo courtesy of Ted Rundle - Posted March, 2018
Plaque Location
The United Counties of Stormont, Dundas and Glengarry
The Township of South Dundas
In Williamsburg, on the north side of Road 18
just east of Road 31 at street number 12385
Coordinates: N 44 58.521 W 75 14.582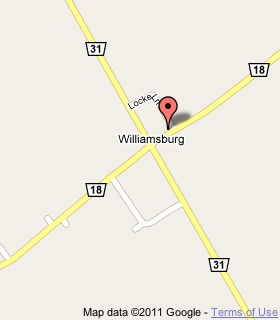 Plaque Text
Born in nearby Matilda township, Locke studied medicine at Queen's University and in Scotland. In 1908 he opened his medical office in this house. Interested in arthritis, which he believed was caused principally by fallen arches, he treated many arthritics in the following years by manual manipulation of their feet. Large numbers of his patients claimed to be cured or relieved by this method and his reputation spread across North America and overseas. From 1928 onwards thousands of the sick visited Dr. Locke in Williamsburg where he reportedly treated hundreds of persons daily. During the depression years this enormous influx brought significant prosperity to the region.
More
Information
Here are the visitors' comments for this page.
> Posted November 9, 2017
This is so cool, my 8 year old just had a photo shoot inside and out of the Dr. Locke Home in Williamsburg, this summer 2017. No wonder I felt so at ease and comfortable in this lovely healing Home. I wish the Dr. Locke home was a working museum. The old wicker wheelchair is still there and his apothecary room is perfect. I'm sure it's the same wallpaper in the front waiting room and the same chandelier. Looks like 13 foot ceilings. Beautiful home.
Carmen Masson westwinds_studio@hotmail.com
> Posted January 21, 2014
I grew up hearing about Dr. Locke from my father. He was a little boy when he saw his mother load his father on a train from Oklahoma. His father was paralyzed from the head down even though he was still a young man. His joints had just froze up and he had been bed fast for 7 years. My devoted grandmother took care of him and then heard about Dr. Locke. They took the wheels off the children's wagon and neighbours mounted them on a single bed frame. He was placed on a rail car, along with caskets and other cargo. Keeping warm was a challenge and he caught pneumonia on the trip which ended up being the cause of his death.
gburnell@usana.com
> Posted July 19, 2013
I live in the U.K. and currently I'm transcribing and making notes on a number of family letters and documents dating from the 1930's and before. Many of my paternal grandmother's cousins were third generation Canadians who had originated in Wales. A letter from one of them to her brother, who had returned to live in the UK, describes Dr Locke's treatment. "We have a very famous Dr here in Canada not far from Ottawa (a village) who has cured thousands of them (faith has everything to do with it) He does it for humanity's sake not money" She was not very literate and had not experienced it herself, so the impression given by her description was that he might be a charlatan, but I'm glad to see from the information on your site that this was not the case and that he was a remarkable man. Interestingly her brother was also a doctor who studied his medicine in Scotland (Edinburgh), beginning in the year that Dr Locke was born. I was born in the year that Dr Locke died!
> Posted June 1, 2013
Hi! I'm the caregiver of the surviving daughter (Marian Locke) of Dr. William Locke. Lately, I came to know that she is the daughter of Dr. Locke. I'm very proud of her. She's very nice person and I'm glad & blessed to take care of her for 4 1/2 years now here in Toronto. She showed me the books and pictures of him. She told me so many things about her father. She will be 96 years of age this coming July 14. God blessed Marian for three wonderful children. Thank you very much...
Mardea msaulog_hspirit@yahoo.ca
> Posted January 11, 2013
Dr. Locke delivered my dad and his siblings in the upstairs room of our old family farm in Morrisburg. We opened the farm to the 1,000 patients flocking to see the Doctor during his heyday, and we charged $1 a day, 3 meals and garage. I took my mom down one year for Doors Open Cornwall and we visited with the family at Dr. Locke's home.
Jim Becksted, Toronto
> Posted November 5, 2012
Came through Williamsburg Nov. second on way home from Ottawa with sister Donna and Ken Heasley, Ken was telling us the story of Dr. Locke which I found very interesting so googled and got the info, am anxious now to go see the home and plaque, many thanks to all who have posted comments for our enjoyment!!
Kaye Aldridge of Cornwall
> Posted September 26, 2012
I am one of the current owners of this home ~ we have done some updating while trying to keep the home in it's most original state so that others can enjoy it ~ IT is a labour of LOVE! ~ Often, when we see people visiting the area & reading the plaque we venture outside to chat with them. We have collected Dr. Locke memorabilia over the 15 years we have lived here ~ Several times we have opened our home to the public during 'Doors Open Cornwall' tours, been on a couple of Artisan tours & had it on a 'home tour' as a fundraiser for a local school. It is a great home ~ We have enjoyed raising our 4 children here and sharing many holidays & traditions with friends & family alike. If you stop by to see the house & we notice you out there looking at the plaque, don't be surprised if we come out to meet you!
The Saunders Family
> Posted August 26, 2012
We have relatives in nearby Chesterville and have often driven thru Williamsburg. Over the years I became interested in Dr. Locke and have a collection of around 68 postcards showing Dr. Locke and his many patients. But now I am wondering how to liquidate my collection. Whether there is anyone interested or if there is a historical society that might enjoy these postcards. Prof. M.W. Wagner, Professor emeritus of psychology (SUNY--Oswego) (mwagner2@twcny.rr.com)
> Posted July 17, 2012
my father grew up in Williamsburg and his family lived there since its settlement. I believe his aunts ran the boarding house, and I know my grand father was delivered by dr locke. spent many a summer visiting my grand mother there as a child and love the town. apparently he had healing hands, and if i'm not mistaken even treated some sort of royalty...nice to read all these comments, hope more can share
ian_froats@hotmail.com
> Posted February 9, 2012
My mother and father went to Canada in the 1930's for treatment by Dr. Locke. Mom had osteo as well as rheumatoid arthritis and her feet were so crippled she could hardly walk. I don't recall where she heard about Dr. Locke but because dad was a railroad engineer, they had a free pass to go by rail from central Kansas, for mom to see Dr. Locke. It was during the Depression and they'd never have been able to afford such a long trip had dad not been an RR engineer. She came home saying she felt she was "cured" and for the first time in a long while, she could walk without severe pain in her feet. Dr. Locke fitted her with "special" shoes which which she wore the rest of her life. She died in a car accident in 1967 but swore Dr. Locke helped her more than any medicine her family doctor had given her.
> Posted September 1, 2011
My father visited Dr. Locke around 1935. The family have a lot of negatives of pictures taken then. I wonder if there is a museum in the area that would be interested in them. I plan to drive to the area just to see the house one day.
> Posted February 17, 2011
In 1935 My Grandparents traveled from Eagle,Colorado to spend several months in Williamsburg. My Grandfather had severe arthritis and received numerous treatments from Dr. Locke. The stayed in Strader's Boarding House?
> Posted February 23, 2010
My father and mother both visited Dr. Locke in the late thirties and early forties. I was a child and remember them on returning from such a visit remarking that there was a large room with chairs around the edge filled with people. At the set time for the appointment, Dr. Locke would move around the room tending to physically handling the problem area. In my parents case it was their feet. He would twist the foot in a particular way and move on to the next person.
> Posted October 8, 2008
Hey. i'm one of the family members who live in Dr. Lockes house. the bottom right of this picture there is a brown rectangle thing. thats part of my playhouse in the side yard :) this is cool. I just thought id search seeing if I could find any pictures and sure enough theres this one :)
> Posted August 14, 2008
Hello Mr.Brown, congratulations on your important work which you obviously do with passion. Does anyone know of resources to find photos and more information on Dr.Locke?
Thank you very much, Spiros spirosreflex@in.gr
Here's where you can send me a comment for this page.
Note: Your email address will be posted at the end of your comment so others can respond to you unless you request otherwise.
Note: Comments are moderated. Yours will appear on this page within 24 hours (usually much sooner).
Note: As soon as I have posted your comment, a reply to your email will be sent informing you.
To send me your comment, click alanlangfordbrown@gmail.com.

Thanks
Alan L Brown
Webmaster


Note: If you wish to send me a personal email, click here.