Horning's Mills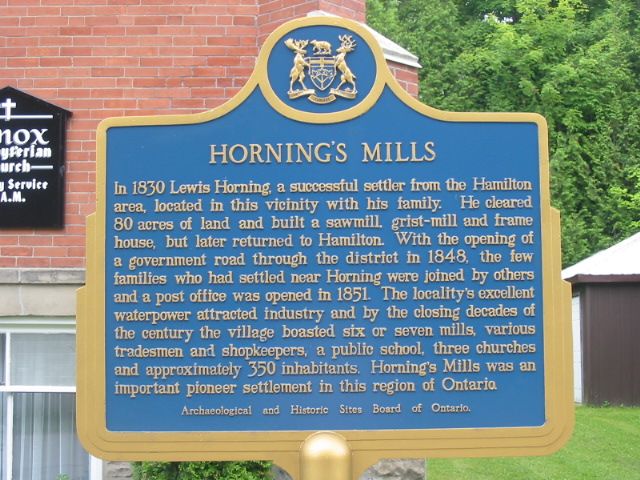 Photo by Alan L Brown - Posted July, 2004
Note: Since this photo was taken the plaque has been moved (see photo below)
Photo from Google Streetview ©2014 Google - Posted July, 2018
Note: I'd like to thank Jocelyn Gordon for letting me know about the change.
Plaque Location
The County of Dufferin
The Township of Melancthon
In Horning's Mills, on the south side of Mill Street
just east of Main Street
Coordinates: N 44 09.240 W 80 12.251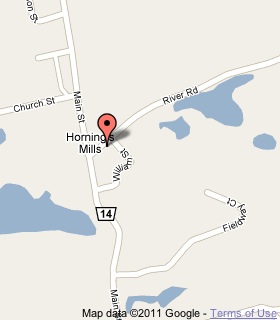 Plaque Text
In 1830 Lewis Horning, a successful settler from the Hamilton area, located in this vicinity with his family. He cleared 32 ha of land and built a sawmill, grist-mill and frame house, but later returned to Hamilton. With the opening of a government road through the district in 1848, the few families who had settled near Horning were joined by others and a post office was opened in 1851. The locality's excellent water power attracted industry and by the closing decades of the century the village boasted six or seven mills, various tradesmen and shopkeepers, a public school, three churches and approximately 350 inhabitants. Horning's Mills was an important pioneer settlement in this region of Ontario.
More
Settlements
Here are the visitors' comments for this page.
> Posted August 30, 2016
Hello. I'm looking for more information on my great great great grandmother, Emma Horning. I believe her parents were Joseph and Harriet, and siblings were Joseph, John, and Artemisa. I know they were in Ontario - trying to figure out more, and certainly where they may have lived!
travelmaven@gmail.com
> Posted April 13, 2014
Hello. My husband, Ralph Kitchen, is a descendant of the Kitchen family who lived in or near Horning's Mills. His father, Robert George Kitchen was born at Horning's Mills in June of 1907. Robert's parents were George Miller Kitchen and Annie Perry. George Miller Kitchen was the son of Andrew Kitchen and Ellenor (spelled a number of ways) Metcalf (Medcalf) whose parents were from England, although Ellenor was born in Canada. If anyone has similar information, and could add to this, I should appreciate hearing from them. Still trying to tie up some information on the Kitchen family. Thanks.
Mrs. Marg. Kitchen, margkitchen@hotmail.ca
> Posted January 22, 2014
I am researching the Airth family in Horning Mills. My husband's great great grandfather Squire William Airth died there 26 January 1880. Any information would be greatly appreciated.
> Posted September 22, 2012
I am Elaine (Horning) Porter, daughter of John Charles Horning. His Father was Vernon Lorenzo Horning of Hamilton married to Grace Phillipo. We know very little about this side of our family other than that the original family came from Pennsylvania. Anyone with information about the Horning family, I would love to hear from you.
erporter11@gmail.com
> Posted February 21, 2012
I am Donald Gordon Horning(born in 1959)and my sister Donna Mason posted the last comment. I am researching our Horning family tree and visited Hornings Mills back in 2000 and saw the plaque at that time. My father was Gordon Vernon Horning (1920-1980)and my grandfather was Gordon Roy Horning (1893-1972). Gordon Roy Horning's father was Philip Horning (1838-1926) and his father was Peter Horning (1793-1873). Lewis Horning was Peter's brother who lived (1809-1876) and their father was Abraham Horning who was a Loyalist and came to the Hamilton area in 1787 from Pennsylvania, USA. Lewis Horning was therefore my grandfather's great uncle and my great-great-great uncle. When my grandfather was alive I heard there was a dedication of the plaque and my grandfather was the most direct descendant living at the time so he came to Horning's Mills for the dedication.
> Posted August 10, 2011
My name is Donna-Marie Mason (nee Horning). My father was Gordon Vernon Horning and his father was Gordon Roy (known as Roy). I am not sure but I think my grandfather had something to do with the dedication of the plaque but I'm not sure.
> Posted July 11, 2011
Sadly, the church is now gone. Only a bare patch of ground marks what was once Knox Presbyterian Church.
> Posted May 2, 2011
We are researching Metcalfe Family history. Our Grandfather, William John Metcalfe was born in Horning Mills in 1870. Any info please email lisa@rockridge.ca
> Posted January 4, 2011
I am the former Mayor of the Township of Melancthon and our Community of Horning's Mills is Hosting a Heritage Day on June 11th, 2011. We are celebrating throughout the whole Hamlet and invite any past residents/family connection/former business proprietors and just anyone else who would like to come and enjoy our History. For further information email debbie.fawcett@sympatico.ca or monitor the Township of Melancthon website closer to the time of the event.
> Posted October 6, 2009
I am a descendant of George Ludwig Horning and his son Peter and his son Lewis. Anyone wishing to share information on this family may contact me at JohnRiden@msn.com. Hope to hear from you soon.
John Riden, Punta Gorda, Fla.
> Posted July 23, 2009
One of the First settlers along with the Horning's were the Silk family. I am a Silk from England, and am researching Silk family history - www.SilkFamily.org
Here's where you can send me a comment for this page.
Note: Your email address will be posted at the end of your comment so others can respond to you unless you request otherwise.
Note: Comments are moderated. Yours will appear on this page within 24 hours (usually much sooner).
Note: As soon as I have posted your comment, a reply to your email will be sent informing you.
To send me your comment, click alanlangfordbrown@gmail.com.

Thanks
Alan L Brown
Webmaster


Note: If you wish to send me a personal email, click here.