Oliver Daunais 1836-1916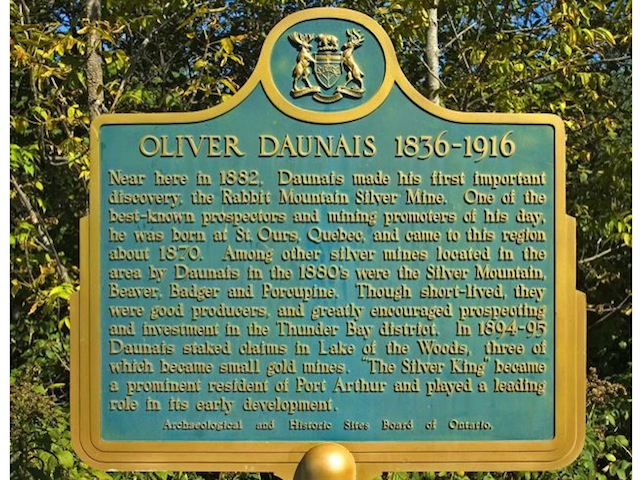 Photo by contributor Dave Fernie - Posted September, 2005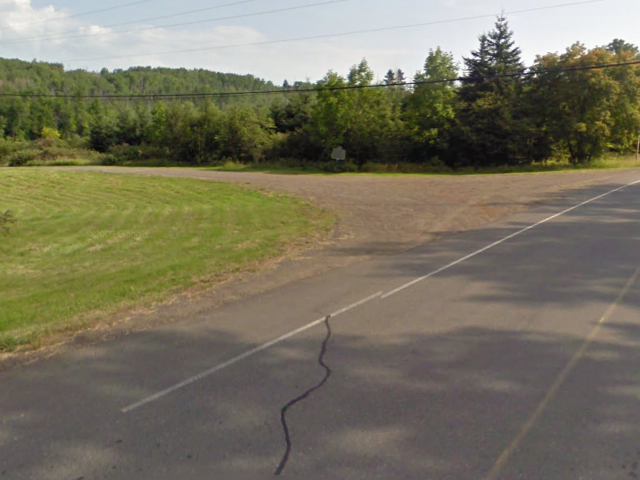 Photo from Google Street View ©2010 Google - Posted October, 2010
Plaque Location
The District of Thunder Bay
The Municipality of Oliver Paipoonge
West of Thunder Bay, on the northeast corner of
Highway 588 and River Road
about 2 km south of Highway 11/17
just over the Kaministiquia River bridge
Coordinates: N 48 21.911 W 89 34.039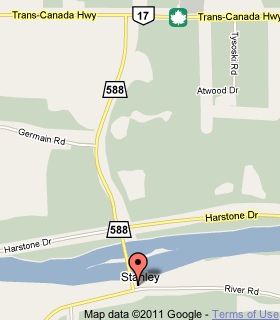 Plaque Text
Near here in 1882, Daunais made his first important discovery, the Rabbit Mountain Silver Mine. One of the best-known prospectors and mining promoters of his day, he was born at St. Ours, Quebec, and came to this region about 1870. Among other silver mines located in the area by Daunais in the 1880's were the Silver Mountain, Beaver, Badger and Porcupine. Though short-lived, they were good producers, and greatly encouraged prospecting and investment in the Thunder Bay district. In 1894-95 Daunais staked claims in Lake of the Woods, three of which became small gold mines. "The Silver King" became a prominent resident of Port Arthur and played a leading role in its early development.
Related Ontario plaques
Silver Islet 1868
Silver Mining in Canada
Cobalt Mining Camp
Cobalt Mining
More
Mining
Here are the visitors' comments for this page.
> Posted July 27, 2018
Hello. My name is Shanteal Letain (Thunder Bay, ON). My grandmother was Patricia Leach and her mother, my great grandmother was Lilian Agatha Barrett (Married to Edward Halliday). Agatha's mother was Emma Daunais who married Percival Athur Barrett and Emma's father was Oliver Daunais. If you have questions, I may have answers. Thank you.
Shanteal Letain calla_lily85@hotmail.com
> Posted March 28, 2017
My mother-in-law's maiden name was Morin. Her first name was Geraldine. She often spoke about her grandfather the Silver King.
blueeyemarie@aol.com
> Posted April 18, 2014
Oliver Daunais was my maternal grandmother's grandfather. Oliver Daunais was married twice - his second wife was Native American. (I always heard she was Ojibwa.) My family is descended from his first wife who was still alive when he married his second wife. (A judge eventually ruled that he had legally divorced his first wife - after his first wife in my family - I think she was Therese Charbonneau (or Therese was his daughter) - took him to court for bigamy. My grandmother - Eleanora M. (Morin) Jennings - was one of 11 grandchildren of Oliver Daunais descended from Oliver and his first wife, maiden name Charbonneau, I believe (first name Therese, I think) who lost the bigamy case. Oliver Daunais, you probably know, was known as the Silver King of Canada because he discovered - probably with the help of the Ojibwas - numerous silver mines in Canada.
Diane Baltozer in Massachusetts dbaltozer@verizon.net
> Posted November 10, 2013
Oliver Daunais parents were Jean-Baptiste and Archange and their daughter was Theresa Charbonneau who married Oliver Daunais. That was his first wife. They were married July 2 1861. The marriage took place in St. Boniface Man. They had 5 children; Peter, Lenora, Josephine, Ellen, and Theophile. Oliver Daunais was my great great grandparent. My father's name was Kenneth James Walker and his grandfather was Oliver James Walker. I hope this helps someone trying to find out more about history. I would like more information on Helen L'Avocat who was Joe Brouchard's daughter.
> Posted August 26, 2013
Does anyone have a list of employees of Oliver Daunais? My great great uncle ran his Beaver and Badger mines.
themediagroup1@yahoo.com Cell 949-933-1403
Catherine
> Posted June 17, 2012
Hello, from what we could find, Oliver Daunais was my mother's great grandfather. He married Helen (or Helene) l'Avocet and she was Tchiatan. My mother's mom's name was Agatha and her mother's name was Lillian. Lillian died young and Helen could not take care of her and Agatha was raised in a private school here in Thunder Bay. We do not know who Agatha's father was yet. We are still in that process. Apparently Lillian and her sister, we believe her name was also Helen, were sent to Hagadashi College in Quebec and both were accomplished pianists.
> Posted March 22, 2012
Hi, This Olivier Donais was my greatgrandfather's brother. His name was Jean Baptiste. I am trying to find my great grandfather/grandmother. Jean Baptiste Daunais was born about 1834-35. I want to find out my Ojibwe roots. LDS site states J. Baptiste Daunais father was Olivier and Mother unknown. Ojibwe connection? I remember my father telling me that my Great Grandmother was a Tchiatan, and had a wicked temper!!
Thanks in advance, Dennis Donais Southbridge, MASS
> Posted March 22, 2012
I am also related to Oliver Daunais. He is the brother of my great-great grandfather, Joseph Daunais, b. Apr 15, 1820.
> Posted November 23, 2011
Oliver was my grandmother's brother. Her married name was Giroux husband Juliess. My father's name was Martin Hank
girouxchgiroux@shaw.ca
Here's where you can send me a comment for this page.
Note: Your email address will be posted at the end of your comment so others can respond to you unless you request otherwise.
Note: Comments are moderated. Yours will appear on this page within 24 hours (usually much sooner).
Note: As soon as I have posted your comment, a reply to your email will be sent informing you.
To send me your comment, click alanlangfordbrown@gmail.com.

Thanks
Alan L Brown
Webmaster


Note: If you wish to send me a personal email, click here.