Alma College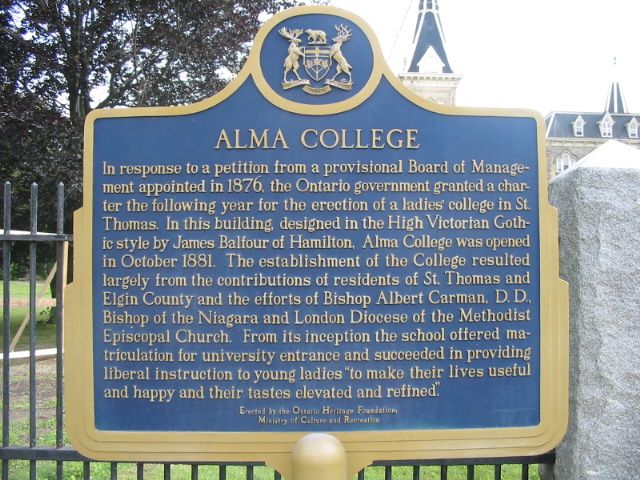 Photo by Alan L Brown - Posted August, 2004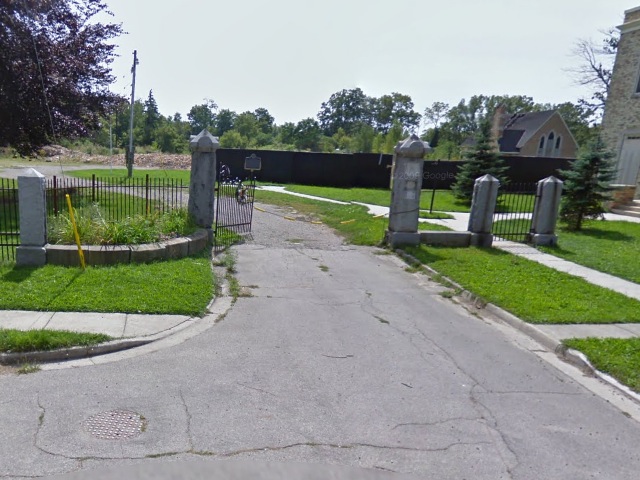 Photo from Google Street View ©2011 Google - Posted January, 2011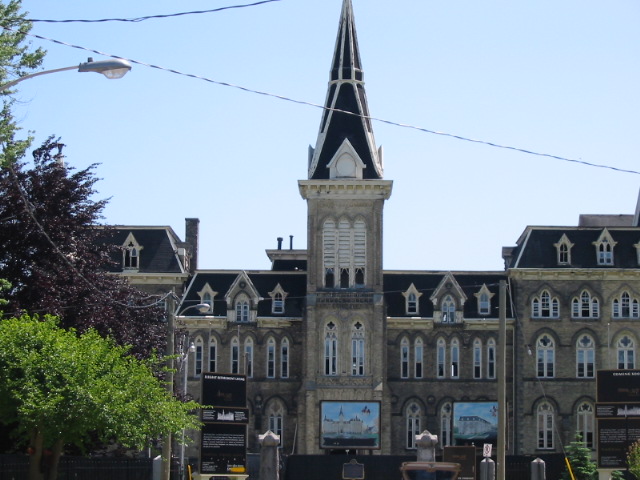 Photo by Alan L Brown - Posted August, 2004
Photo Source - Wikipedia
Plaque Location
The County of Elgin
The City of St. Thomas
At the south end of Moore Street
4 blocks south of Talbot Street
Coordinates: N 42 46.431 W 81 11.457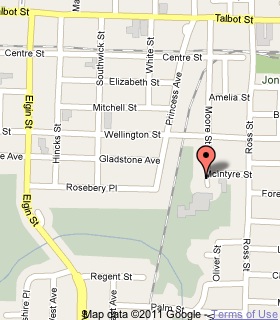 Plaque Text
In response to a petition from a provisional Board of Management appointed in 1876, the Ontario Government granted a charter the following year for the erection of a ladies' college in St. Thomas. In this building, designed in the High Victorian Gothic style by James Balfour of Hamilton, Alma College was opened in October 1881. The establishment of the College resulted largely from the contributions of residents of St. Thomas and Elgin County and the efforts of Bishop Albert Carman, D.D., Bishop of the Niagara and London Diocese of the Methodist Episcopal Church. From its inception the school offered matriculation for university entrance and succeeded in providing liberal instruction to young ladies "to make their lives useful and happy and their tastes elevated and refined".
More
Information
More
Schools
Here are the visitors' comments for this page.
> Posted May 29, 2008
As a former student of Alma I am deeply saddened by her demise. I'm reflecting on the students from all over the world who filled those halls. I remember Maria, who escaped from Africa to come to Alma for her much valued education. I remember the girls from South America who had such a sense of fun and fashion in the face of uniforms and ugly shoes. I remember girls from the farm and girls from the city mingling as they should. I remember "Side Store", I remember Miss Bone and Dr. Sifton... I remember chocolate cake and minty whipped frosting. I remember the "leftovers". I remember...
> Posted May 29, 2008
Words cannot express my disappointment with the City of St. Thomas and Ontario's Provincial Government. Alma College should never have been sold to the private sector. The intentions of the purchasers, was clearly never to restore the building and use it as a seniors' residence. What they wanted was the land...the vacant land in the name of financial greed. The many years of indifference on the part of each of these government bodies has resulted in the loss of Alma College, which was not only of historical significance to the City of St. Thomas, but to the world, given that it educated young women from throughout the world. I hope whoever is responsible for this act of arson is caught and persecuted to the full extent of the law.
> Posted May 29, 2008
Alma girls went to Camp Inawendawin near Dorset in the late war years, some from South America as I recall it. CIT
> Posted May 29, 2008
Fie, one more piece of Canadian history destroyed by neglect, poor governance & a total disregard for our own heritage & culture! We should be justifiably proud of such and protect these buildings at all costs. Charity begins at home; our heritage should not have been placed on the auction block to be destroyed by arsonists. Fie, I say, fie and shame on the land mongers and politicians who have caused this travesty. I would be deluded; however, to assume that there will be any justice that will result from the investigation surrounding this sad and tragic incident, further, I would be delusional to assume that we will have learned the one last lesson that Alma College has to teach us all.
Wm. H. Rymer
North York, ON
> Posted May 29, 2008
Alma College was the most beautiful piece of architecture that I have ever seen in my life. It hurt to see how it was neglected. To see it destroyed was heart wrenching. I never attended or even visited inside, but I still admired it. For those who did know this landmark personally, my deepest sympathies go out to you. Rest in peace Alma College.
> Posted May 29, 2008
Alma college was a beautiful architectural masterpiece. Suspicion, frustration, and doubt overwhelm me in catching those responsible that they will even be found, will ever be held responsible, and if they are will receive such a minor penalty from our judicial system that it almost makes me sick. I look at the pictures of the school at her prime and it was truly a picture of beauty. Words cannot truly depict my frustration over this. Those who attempted to preserve her, thank-you. Those who owned it and let it rot, may your name forever be inscribed in history for being responsible for her current demise.
> Posted May 29, 2008
yesterday morning before the fire the MMP of the area stopped the demolition order made by the OMB. the restraint was to last 60 days. It came a little too late. I can only feel anger and sadness towards who ever did this to her. There is hope, they took lazer measurements of what was left of the front facade so hopes is that the new structure will look something like the old one!! but it still wont be the same. Alma rest in peace........
> Posted May 29, 2008
i was able to see it for the first time 3 weeks ago and I seen it come down what a waste she was a amazing piece of history
> Posted May 28, 2008
Alma College...Rest In Peace...May 28, 2008
> Posted May 28, 2008
And ... today...May 25th, it's burning to the ground... a familiar face in our community...Gone!!!
> Posted May 28, 2008
At about 1130am, today I watched our Alma College burn down. It broke my heart to see one of st.Thomas historic buildings burn down.
> Posted May 28, 2008
Today, Alma burnt to the ground. It is a sad day for us all. Alma College will always live on in our hearts and memories!!
> Posted May 28, 2008
sad to think there is nothing left of this beautiful building now, that fire was set to it, even though it was going to be restored... how sad :(
> Posted May 28, 2008
What an absolute shame that this beautiful monument is gone. I remember friends who walked the halls, dances in the gym and the beautiful gardens around the amphitheatre. I shake my head at the missed opportunity to preserve this property....
> Posted May 28, 2008
Well I guess if politics didn't drag their feet so long this beautiful building could have been transformed into a useful tool for the community. A terrible shame ... but the state of the building was a shame also.
> Posted May 28, 2008
I could see the smoke from Alma at Homedale it was really scary and sad. a girl on my bus said these exact words, "Who cares?" yeah. I know
> Posted May 28, 2008
Rest in peace Alma College!!
> Posted May 28, 2008
I can't believe it's gone..breaks my heart. Truly a sad day for St.Thomas
> Posted May 28, 2008
Absolutely heartbreaking, the fire is an extremely sad and undignified end to a building of such prestige,and historical importance.
> Posted May 28, 2008
I had only 1 opportunity to go into this glorious building. I will treasure this special time. I can still feel the magic. Thank you for that only chance. Good bye, Alma College! :(
> Posted May 28, 2008
Alma College was the heart and sole of this city, and it will be missed by all that grew up here. I just hope that everyone keeps a hold of their great memories of Alma and hope that its memory is never forgotten with time.
> Posted May 25, 2008
alma college is a historic monument..tell me something..who ever thinks we should get rid of this piece of history is completely out of there mind..alma college is what make St thomas special..no one wants to see it go..i know I dont..
Here's where you can send me a comment for this page.
Note: Your email address will be posted at the end of your comment so others can respond to you unless you request otherwise.
Note: Comments are moderated. Yours will appear on this page within 24 hours (usually much sooner).
Note: As soon as I have posted your comment, a reply to your email will be sent informing you.
To send me your comment, click alanlangfordbrown@gmail.com.

Thanks
Alan L Brown
Webmaster


Note: If you wish to send me a personal email, click here.