Fort St. Joseph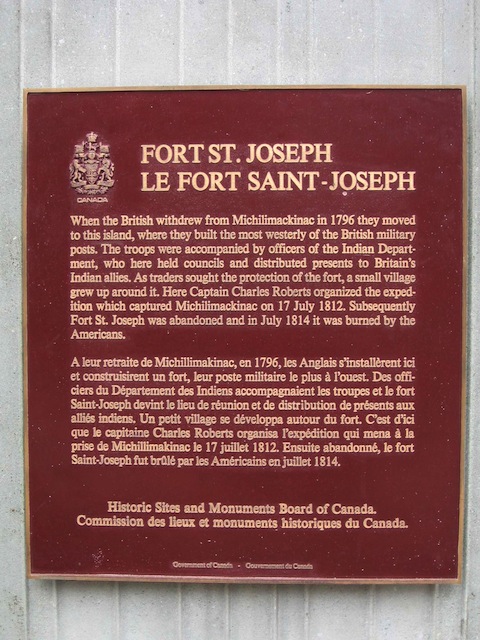 Photo by contributor Parks Canada - Posted December, 2011
Photo by contributor Colin Old - Posted September, 2013
Plaque Location
The District of Algoma
After crossing the bridge (Highway 548) from Highway 17
follow the Parks Canada beaver signs along the 37 km drive to
Fort St. Joseph National Historic Site
Coordinates: N 46 03.768 W 83 56.730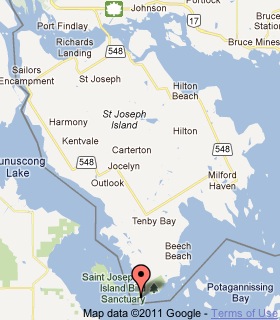 Plaque Text
When the British withdrew from Michilimackinac in 1796 they moved to this island, where they build the most westerly of the British military posts. The troops were accompanied by officers of the Indian Department, who here held councils and distributed presents to Britain's Indian allies. As traders sought the protection of the fort, a small village grew up around it. Here Captain Charles Roberts organized the expedition, which captured Michilimackinac on 17 July 1812. Subsequently Fort St. Joseph was abandoned and in July 1814 it was burned by the Americans.
Another plaque at this location
Fort St. Joseph
More
Information
More
War of 1812
More
Military
Here are the visitors' comments for this page.
> Posted July 17, 2012
Historical markers on Mackinac Island, Michigan, describe events of this day in 1812:
British Landing
Here, during the night of July 16-17, 1812, a small force of British regulars and several hundred voyageurs and Indian allies from St. Joseph Island landed. They occupied a height that overlooked Fort Mackinac and demanded its surrender. Lt. Porter Hanks, commander of the American garrison of 57 soldiers, had not known that war had been declared. Realizing that resistance was hopeless and might provoke an Indian massacre, Hanks capitulated without a fight.
British Cannon
Early on the morning of July 17, 1812, British troops set up a cannon on this height overlooking Ft. Mackinac. This move, coupled with the size of the British forces, resulted in the American garrison's surrender.
Historic Fort Mackinac
Mackinac Island has been called the most historic spot in the Middle West. Fort Mackinac was first built by the British in 1780-81. It was not until 1796, thirteen years after the end of the Revolutionary War, that the British relinquished this fort to the Americans. At the outbreak of the War of 1812 the British seized the island and built Fort George. This fort, which you see to the north beyond the Rifle Range, was renamed Fort Holmes by the Americans who reoccupied the island in 1815. Troops garrisoned Fort Mackinac until 1895.
-Wayne